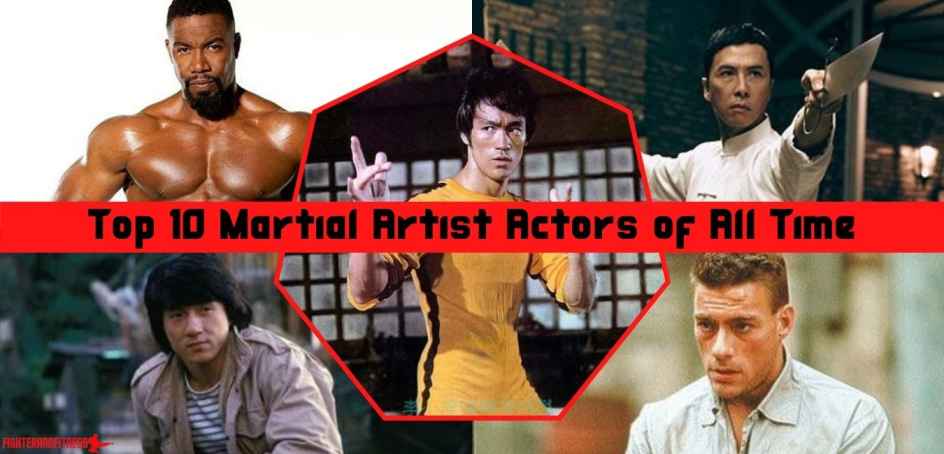 10. Scott Adkins
Scott Edward Adkins was born in a town in Birmingham, England on 17 June 1976. His first interest in martial arts was in judo at the age of 10 when he visited a small judo academy with his father and his elder brother. His interest in martial arts grew even more. He began to practice Taekwondo from this same year. At the age of 16, he started practicing Kickboxing. Eventually, he became a kickboxing instructor. Scott Adkins also trained in Muay Thai, Jiu-Jitsu, Ninjutsu, Krav Maga, Karate, Capoeira, Wushu, and Acrobatic Gymnastics. Scott Adkins started his career in acting in a Hong Kong martial arts film called Dei Seung Chui Keung (2001) also known as Extreme Challenge. He had an opportunity to work with Yuen Woo-ping, Corey Yuen, Sammo Hung, and Jackie Chan. Then he was offered a guest role in the BBC's Doctors (2000). Scott Adkins's portrayal of Talbot in Special Forces (2003) and Yuri Boyka in Undisputed II: Last Man Standing (2006) were the films that broke him into the mainstream.
9.Chuck Norris
Carlos Ray "Chuck" Norris commonly called as Chuck Norris was born in Ryan, Oklahoma on March 10, 1940. Chuck Norris worked as an American martial artist, actor, film producer, and screenwriter. He was an officer in the US Air Force. Norris was dispatched from the U.S. Air Force in August 1962. He opened a martial arts academy. Norris won many martial arts championships and later founded his own style, Chun Kuk Do. Chuck Norris holds black belts in Tang Soo Do, Brazilian jiu-jitsu, and Judo. Norris trained celebrities of Hollywood in martial arts. Chuck Norris firstly appeared in minor roles in movies. Then Bruce Lee invited him to play one of the main villains in Way of the Dragon (1972). Chuck Norris is a writer and has written books on martial arts, exercise, philosophy, western novels, and biography.
8.Tony Jaa
Tatchakorn Yeerum internationally known as Tony Jaa was born in Surin, Thailand on 5 February 1976. Tony Jaa's inspirations were Bruce Lee, Jackie chan, and Jet li who are also the top 10 martial artist actors of all time. Jaa began training for Muay Thai at the local temple from age 10 and at age 15 he requested to become a student of stuntman and action film director Panna Rittikrai. At first Tony worked as a stuntman for 14 years for muay Thai stunts. After doing roles in movies he doubled for Sammo Hung when the actor was making a commercial advertisement. He is famous for his films which include Ong-Bak: Muay Thai Warrior (2003), Tom-Yum-Goong (2005), Ong Bak 2: The Beginning (2008), Furious 7 (2015), SPL II: A Time for Consequences (2015), and Paradox (2017).
7. Iko Uwais
Iko Uwais was born in Jakarta, Indonesia on 12 February 1983. Iko Uwais worked as an Indonesian actor, stuntman, fight choreographer, and martial artist. Uwais's grandfather, H. Achmad Bunawar, was a master of silat. Silat is an Indonesian traditional martial art. Uwais started learning silat from the age of 10. Uwais became National Champion in 2005 in the Silat Demonstration category. Gareth Evans,Welsh film Director discovered Uwais's talent as a martial arts actor when he visited Uwais's silat academy in 2007. He is best known for his roles in the action films Merantau (2009), The Raid (2011), The Raid 2 (2014), Headshot (2016), Mile 22 (2018), The Night Comes for Us (2018), Stuber (2019) and the Netflix series Wu Assassins (2019–present).
6.Michael Jai White 
Michael Richard Jai White was born in Brooklyn, New York on 10 November 1967. Michael Jai White worked as an American actor and martial artist. Michael Jai White is a martial artist who holds a black belt in eight different styles which are Shōtōkan, Taekwondo, Kobudō, Goju-Ryu, Tang Soo Do, Brazilian Jiu-Jitsu, Wushu, and Kyokushin, with a specific interest in Kyokushin Karate. At the age of 7, White started training for Jiu-Jitsu. Then white learned Shotokan and moved on to other styles. White's first major starring role and breakout performance were in the 1995 HBO film Tyson, where he played the character of Mike Tyson. White Trained often with Jean-Claude Van Damme who is also one of the top 10 martial artist actors of all time.
5.Jean Claude Van Damme
Jean-Claude Camille François Van Varenberg professionally known as Jean Claude Van Damme was born in Brussels, Belgium on 18 October 1960. Van Damme worked as a Belgian actor and martial artist. Van Damme is a black belt in karate and he is also trained as a kickboxer. Van Damme apart from being one of the top 10 martial artist actors of all time is also Mr. Belgium for bodybuilding. Van Damme began training for martial arts at the age of ten in a Shōtōkan karate academy. Van Damme joined the national center of karate, Belgium and after training, for four years he was selected in the Belgian Karate Team. When the Belgium Karate Team won the European Karate Championship on 26 December 1979 Van Damme was a member of this team when he was 12. He is popular for his films which include Bloodsport (1988), Cyborg (1989), Kickboxer (1989), Lionheart (1990), Death Warrant (1990), Double Impact (1991), Universal Soldier (1992), Nowhere to Run (1993), Hard Target (1993), Timecop (1994), Street Fighter (1994), Sudden Death (1995), The Quest (1996), Maximum Risk (1996), JCVD (2008), Jean-Claude van Johnson (2016–2017 series), and The Bouncer (2018).
4.Jet Li
Li Lianjie known as Jet Li was born in Beijing, China on 26 April 1963. Jet Li is a Chinese film actor, martial artist, film producer, and a Wushu champion. He is a now Singaporean citizen. Jet Li won his first national championship for the Team of Beijing Wushu after training under Wushu master, Wu Bin for three years. At the age of 19 Jet Li went to china to become an actor and made his debut with the film Shaolin Temple (1982). He worked with other top 10 martial artist actors of all time. Jet Li made his American film debut in Lethal Weapon 4 in 1998. Jet Li survived a Tsunami when he was in the Maldives with his family. He co-starred with Jason Statham in The One (2001) and War (2007), with Jackie Chan in The Forbidden Kingdom (2008), with Sylvester Stallone in all three of The Expendables films, and as the title character villain in The Mummy: Tomb of the Dragon Emperor (2008).
3.Donnie Yen
Donnie Yen Ji-dan was born in Guangzhou, China on 27 July 1963. Donnie Yen is a Hong Kong Chinese actor, martial artist, film director, stuntman, producer, action choreographer, and multiple-time world wushu champion. Donnie Yen is a martial artist in 12 different martial arts styles which are Tai Chi, Boxing, Kickboxing, Jeet Kune Do, Hapkido, Taekwondo, Karate, Muay Thai, Wrestling, Brazilian Jiu-Jitsu, Judo, Wing Chun, and Wushu. Donnie Yen's mother Bow-sim Mark, was a kung fu master. In the beginning, he learned Tai Chi, and at the age of 9, he started practicing Kung Fu. At the age of 14, Donnie Yen started practicing Wushu. At the age of 16, he started practicing Taekwondo. Donnie Yen's first starring role was in the film Drunken Tai Chi in 1984. Donnie Yen is famous for playing Ip man. He has gained popularity in the world for playing Chirrut Îmwe in Rogue One: A Star Wars Story (2016) and Xiang in xXx: Return of Xander Cage (2017).
2.Jackie Chan 
Chan Kong-sang professionally known as Jackie chan was born in Hong Kong on 7 April 1954. Jackie Chan functions as a Hong Kong actor, martial artist, stuntman, film director, producer, action choreographer, screenwriter, and singer. Jackie Chan is one of the most famous cinematic influencers personality. Jackie Chan has been given stars on the Hong Kong Avenue of Stars and the Hollywood Walk of Fame. Jackie Chan is a black belt in hapkido under the grand master Jin Pal Kim. He also has experience in other styles of martial arts such as Karate, Jeet Kune Do, Taekwondo, and Judo. He began his acting career by appearing in small roles at the age of five as a child actor. He worked as a stuntman in the Bruce Lee films Fist of Fury and Enter the Dragon at the age of 17. His first role was in Little Tiger of Canton in 1973, which had a limited release in Hong Kong. Jackie Chan for his services to entertainment was awarded an M.B.E.(Member of the Order of the British Empire) in 1989. Jackie Chan got many permanent injuries while shooting for his films.
1.Bruce Lee
Lee Jun-fan professionally known as Bruce Lee was born in Chinatown, San Francisco on July 20, 1973. Bruce Lee worked as a Hong Kong American actor, martial artist, director, martial arts instructor, and philosopher. Bruce Lee was the founder of Jeet Kune Do which is a hybrid martial arts style. Bruce Lee was introduced to films from the very beginning since he was a baby as his father Lee Hoi-Chuen was an actor. Bruce Lee began training for Wing Chun from the age of 16 under the Wing Chun teacher Ip Man. When Lee shifted to the United States he started to teach Kung Fu. Bruce Lee performed repetitions of two-finger push-ups and one-inch punch in the 1964 International Karate Championship. He starred in the TV series The Green Hornet (1966-67) and became a major box office draw in The Chinese Connection and Fists of Fury. His major film was Enter the Dragon. he died at the age of 32 on July 20, 1973. Indeed he is the first among the top 10 martial artist actors of all time.
Share your view about the top 10 martial artist actors of all time and dropdown who come after the top 10 martial artist actors of all time. Check out Common martial arts injuries and Top 10 female martial artists.